University of Miami – Student Recognized for Outstanding Volunteer Work
December 8, 2020 11:52 am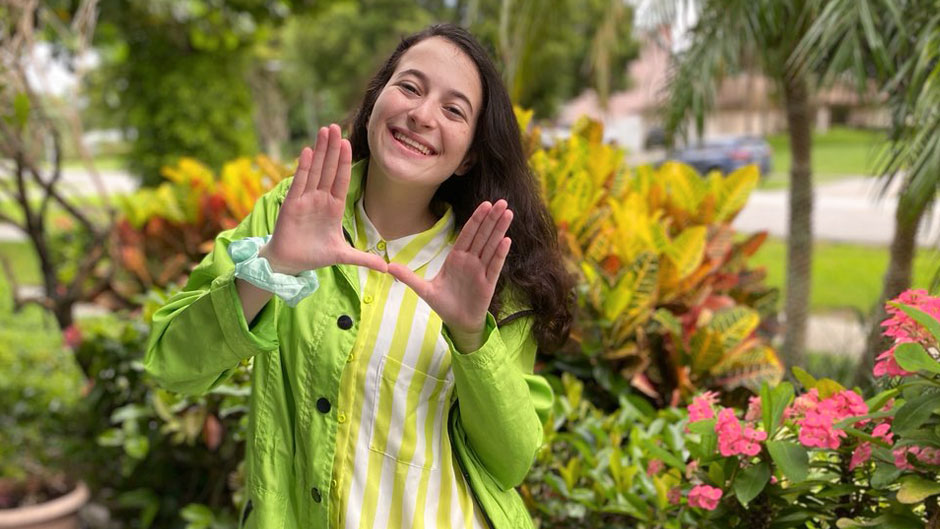 Since age 11, Kayla Abramowitz has been effecting positive change for children in more than 450 hospitals across the country through her nonprofit organization Kayla Cares 4 Kids.
Abramowitz, a first-year student studying public advocacy in the School of Communication and a member of the Frost Band of the Hour, collects entertainment and educational items in an effort to lift children's spirits during their hospital stay.
Recently, Abramowitz was recognized as one of 10 winners of the 2020 .ORG Impact Award for Outstanding Volunteer by Public Interest Registry, the organizers behind .ORG. Kayla Cares 4 Kids will receive $5,000 and will be honored as part of the "10 Days of .ORG" online experience that celebrates achievements that have healed, inspired, transformed, and connected communities over the past year, according to the website.
"I spent a lot of time as a child at Nicklaus Children's Hospital; so, I know firsthand how boring it can be," said Abramowitz, the chief kid officer of the company who suffers from several chronic illnesses. "I decided to change that."
The concept behind her organization began with her taking a small wagon around her neighborhood and going door-to-door asking for DVDs. After a few days of collecting, she surpassed her goal by 200 DVDs.
"Now, seven years later, I'm here in 2020 and have donated over 28,000 items to 450 medical facilities in all 50 states, including Puerto Rico and D.C.," said Abramowitz.
Today, the mission of the organization is no different than when she was 11, Abramowitz said, which is to help sick kids feel better one smile at a time. Kayla Cares 4 Kids accomplishes this by donating books, DVDs, video games—anything that can entertain or educate them.
To adapt to the pandemic, Abramowitz had to get creative. Since hospitals and medical facilities around the nation were taking precautions to combat the spread of the virus and personal visits were halted, she began hosting virtual livestream sessions from her bedroom. She would read donated books and also do arts and crafts demonstrations with simple household items that can be found in or around the home or hospital room.
Abramowitz shared that her parents, who are both active with the nonprofit—Andrea, as chief executive officer, and Michael, as board chair—have offered unwavering support throughout her life's journey. On the days when she is feeling ill because of her chronic illnesses, she said she can rely on her mom to lend a helping hand.
"They have been my biggest supports, which has really been helpful," said Abramowitz. "My mom and I work well together—she's my go-to person."
As operations begin to ramp back up, Abramowitz and her team look forward to accepting more volunteers and ambassadors into the organization.
"The cash reward will help us to keep operating, which we really are in need of during COVID-19," said Abramowitz. "Only recently have we been able to ship items out again as facilities are beginning to open back up," she added.
"Right now, we are working on getting students together to provide experience for those who want to be in leadership roles," she said. "We are open to anyone who has fresh ideas and wants to engage with kids. We want to be the best organization we can possibly be."
Kayla Cares 4 Kids is always looking for volunteers. If interested, contact kayla@kaylacares4kids.org.
Source: https://news.miami.edu/stories/2020/12/student-recognized-for-outstanding-volunteer-work.html
By Ashley Williams